Posted May 22, 2020
On Thursday, the department of the Electrical, Computer and Systems Engineering held its annual Commencement Ceremony to honor graduating students and ECSE award winners.
This Spring, we have around 140 graduating undergraduates earning their B.S. in Electrical Engineering and Computer and Systems Engineering, 15 Masters graduates, and 3 Ph.D. graduates. We were thrilled to celebrate their achievements through a digital ceremony.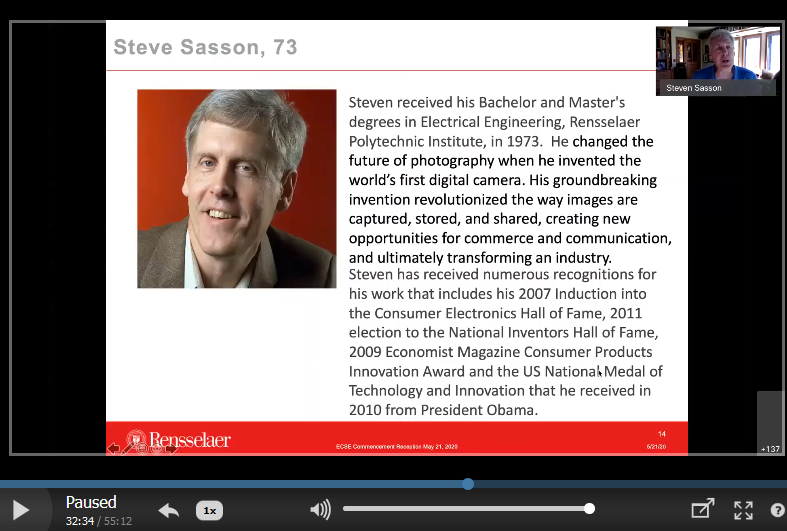 Our keynote speaker at the event was Steve Sasson, an ECSE graduate and inventor of the digital camera. Steven received his Bachelor and Master's degrees in Electrical Engineering, Rensselaer Polytechnic Institute, in 1973. He changed the future of photography when he invented the world's first digital camera. His groundbreaking invention revolutionized the way images are captured, stored, and shared, creating new opportunities for commerce and communication, and ultimately transforming an industry. Steven has received numerous recognitions for his work that includes his 2007 Induction into the Consumer Electronics Hall of Fame, 2011 election to the National Inventors Hall of Fame, 2009 Economist Magazine Consumer Products Innovation Award and the US National Medal of Technology and Innovation that he received in 2010 from President Obama.
The event also featured remarks from ECSE Department Head, Prof. John Wen, Graduate Program Director Prof. Hussein Abouzeid and Undergraduate Faculty Advisors Profs. James Lu, Jian Sun, Paul Schoch and W. Randolph Franklin.
We announced our annual ECSE award winners, and were so glad to celebrate them and our graduating class. A full list of award winners, graduating students and a video recording of the event can be found at this link.
Congratulations again to our ECSE graduates and award winners!