Posted January 16, 2019
Rensselaer professor Rich Radke honored as the 2018 TOTA award recipient for his service and accomplishments as a standout educator at RPI.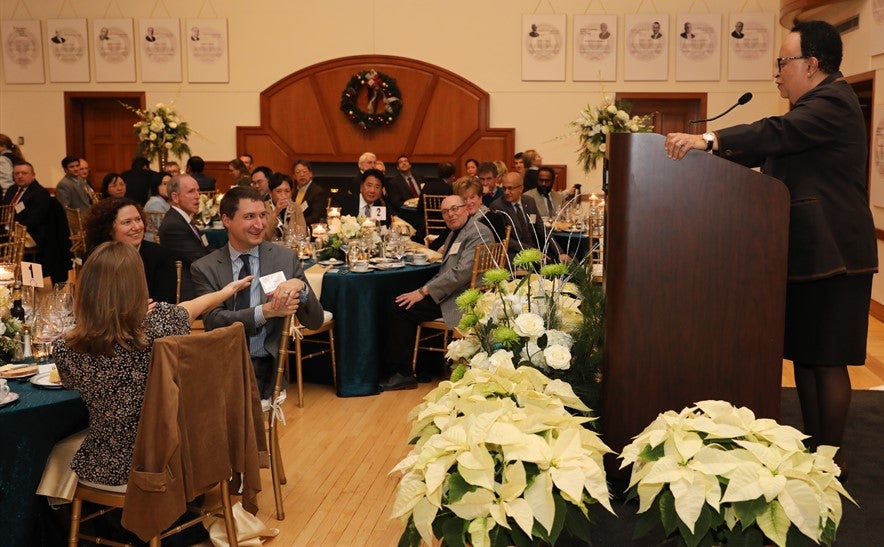 Rensselaer Professor Richard Radke was formally recognized at a reception in November honoring his 2018 Trustees' Outstanding Teacher Award (TOTA) selection from May for his service and accomplishments at RPI. Since joining the Rensselaer faculty in 2001, Radke has been a standout educator in the Electrical, Computer, and Systems Engineering (ECSE) Department and continuously one of the highest-ranked undergraduate teachers by students in the department. He has excelled in teaching a wide variety of courses in the areas of signal and image processing and computer vision. He is well-known as a leader in bringing new technology and pedagogy into the classroom, and promoting the value of a Rensselaer education outside the RPI community.
Radke's teaching approach has been described as building an intuition in students that reinforces key concepts rather than heavily relying on curriculum rhetoric and memorization. In the classroom, he engages students through the use of modern technology, current events, pop culture, and engineering news. He is known for distributing his lectures on his YouTube channel, which has more than 2,000,000 views and 19,000 subscribers. 
 "He's an expert at tying academic concepts to real-world practice, and having fun with his students while doing it," praised former ECSE department head Mike Wozny, citing the course Radke developed, Computer Vision for Visual Effects or "CVFX" as it has come to be known, as a great example of "a continually innovative approach to education."
"Rich brings energy, enthusiasm, and fun into his teaching and research," said ECSE department head John Wen, "he inspires all of us to be better teachers."
Radke was previously recognized in 2014 for innovative teaching as a recipient of both the Rensselaer School of Engineering's Classroom Excellence Award and one of the American Society of Engineering Education's (ASEE) "20 under 40" young faculty.
 "I'm honored to be recognized for what I truly enjoy doing. Teaching a great class is both personally satisfying and, hopefully, something students will remember and find useful well after they graduate," said Radke upon receiving the award last May.
The Trustees' Outstanding Teacher Award committee makes its selection each year from a set of highly talented nominees across all Rensselaer departments. In its 2018 citation, the TOTA committee recognized Radke as, "a dynamic teacher, spurring your students' creativity, the embodiment of innovative pedagogy, and a joyous ambassador for your field – and for Rensselaer."
ECSE professors Joe Chow and Ishwara Bhat were also honored for their service and accomplishments at the 55th annual Faculty Recognition dinner in May.  Chow received the William H. Wiley 1866 Distinguished Faculty Award and Bhat, the Jerome Fischbach '38 Faculty Travel Award.
Story author: Leah Scott 

About Rensselaer Polytechnic Institute
Rensselaer Polytechnic Institute, founded in 1824, is America's first technological research university. For nearly 200 years, Rensselaer has been defining the scientific and technological advances of our world. Rensselaer faculty and alumni represent 85 members of the National Academy of Engineering, 17 members of the National Academy of Sciences, 25 members of the American Academy of Arts and Sciences, 8 members of the National Academy of Medicine, 8 members of the National Academy of Inventors, and 5 members of the National Inventors Hall of Fame, as well as 6 National Medal of Technology winners, 5 National Medal of Science winners, and a Nobel Prize winner in Physics. With 7,000 students and nearly 100,000 living alumni, Rensselaer is addressing the global challenges facing the 21st century—to change lives, to advance society, and to change the world. www.rpi.edu
About Electrical, Computer and Systems Engineering (ECSE)
ECSE offers Bachelor, Masters, and Doctoral degrees in Electrical Engineering and Computer and Systems Engineering.  ECSE faculty conducts cutting edge research across multiple disciplines and physical scales, including semiconductor design and processing, smart sensors and devices, 5G communication, and cybertphysical systems such as smart grid and collaborative robots.  ECSE students are trained in engineering fundamentals and application-specific domains with emphasis on hands-on education, design experience, and teamwork.  ECSE faculty include 14 IEEE Fellows, 7 Fellows in other learned societies, and 7 NSF CAREER Award winners.  For further information, visit www.ecse.rpi.edu.
About Radke's Computer Vision for Visual Effects Course
Radke's longstanding interest in relating technology to the visual arts led to a popular course that goes "under the hood" of the advanced visual effects that are pervasive in commercials, TV shows, and movies.  The course overviews classical computer vision algorithms used on a regular basis in Hollywood (such as blue-screen matting, structure from motion, optical flow, and feature tracking) and exciting recent developments that form the basis for future effects (such as natural image matting, multi-image compositing, image retargeting, and view synthesis).  The course also includes several out-of-the-classroom hands-on activities with professional visual effects equipment, including large greenscreens, Steadicam rigs, motion capture technology, and three-dimensional scanners.  Students produce small proof-of-concept effects videos throughout the semester, culminating in a large final project.  A video of the best student work from the most recent offering of the course is available here.  The course is accompanied by Radke's textbook by the same name, published by Cambridge University Press in 2012.
About the Center for Lighting Enabled Systems & Applications (LESA)
Funded primarily by the National Science Foundation (NSF), LESA is an interdisciplinary, multi-university center developing "Smart Lighting Systems that Think™". The Center engages faculty members, graduate students, research staff, and undergraduates to work on research leading to smart lighting systems with adaptive and controllable properties that will change the way society uses lighting.  The Center joins academia, industry, and government in partnership to produce transformational engineered systems, along with engineering graduates who are adept at innovation and primed for leadership in the global economy.  The LESA Engineering Research Center is headquartered at Rensselaer Polytechnic Institute in Troy, New York, and partners with Boston University, the University of New Mexico, and Thomas Jefferson University to achieve its objectives. To learn more, go to www.lesa.rpi.edu.