Posted May 8, 2018
(TROY, New York). Senior technical director of General Electric's Energy Consulting Group Nicholas Miller ('79 and '80) received recognition at a recent ceremony in Tucson, Arizona for his contributions as an inventor and technology developer with a lifetime achievement award from Utility Variable-Generation Integration Group (UVIG) – a prestigious professional special interest group that provides critical analysis for wind utility applications. Miller has spent more than 15 years working on renewable energy integration with smart power grid technology. He also holds many wind and solar power energy patents and advises across the globe on power grid efficiency.
UVIG executive director Charles Smith lauded Miller for having dedicated his career to finding the most effective and efficient ways to integrate wind and solar energy into electric power grids. According to Smith, Miller's work on the National Renewable Energy Laboratory's Western Wind and Solar Integration Study was 'pioneering and vital to the future of the [power] industry.'
"I am humbled and honored to receive this award from such a highly accomplished and diverse group of experts," Miller said of his recognition. "I look forward to continued collaboration with my peers to find ways to push the envelope to integrate more renewables onto the grid."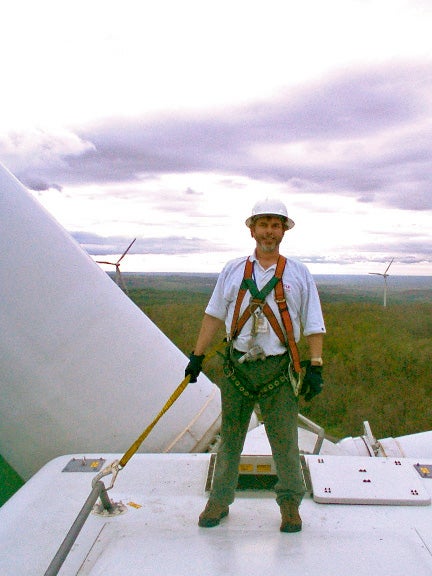 Miller earned both a bachelor degree in Electric Power Engineering and masters of Engineering in Electric Power from Rensselaer Polytechnic Institute's School of Engineering before spending nearly 40 years with power giant General Electric.
"As an RPI graduate, I walked into work the first day with an unparalleled level of respect and credibility for a new engineer," Miller reminisces. "An entire career later, it is a point of pride for me; [one] met with respect that I'm an alumnus of the program." Miller goes on to say that the 'power program' was very well-known making him an in-demand engineer when he graduated.
The system engineering group at GE, now Energy Consulting, has a long history and close relationship with RPI. National Academy of Engineering Member and Institute Professor Joe Chow was one of Miller's first mentors at GE. The GE Edison Award Miller received in 2017 allowed him to direct a grant from GE to the Department of Electrical, Computing & Systems Engineering (ECSE) enabling new faculty member Dr. Luigi Vanfretti to further develop a real-time simulation laboratory that, according to Miller, will be of immense value to the power industry. Miller's father Edward, RPI engineering graduate from the class of 1946, spent a full career at GE during its glory days of steam turbines. He held many patents and achieved some engineering firsts as steam turbines got bigger, more efficient, and cleaner over the decades of his tenure. "His engineering and inventions are still found today on steamers," Miller says of his father's accomplishments. [Edward] Miller was recognized at the formal alumni dinner in 2016 for 70 years of dedication to RPI, service to GE, contributions to the power industry, and philanthropy, among other accomplishments.
Miller's family has an impressive legacy at RPI that, in addition to his father, includes brothers Nelson Miller ('71) and R. Scott Miller ('75), daughter Erin Miller ('12 and '13), and eight extended family members.
At the invitation of Department Head Michael Wozny, Nicholas Miller will address the ECSE 2018 Grainger Award recipients in April. The Grainger Award is a distinguished honor for engineering graduates entering the electric power industry or conducting research in electric power.
Story author: Leah Scott
About Rensselaer Polytechnic Institute
Rensselaer Polytechnic Institute, founded in 1824, is America's first technological research university. For nearly 200 years, Rensselaer has been defining the scientific and technological advances of our world. Rensselaer faculty and alumni represent 85 members of the National Academy of Engineering, 17 members of the National Academy of Sciences, 25 members of the American Academy of Arts and Sciences, 8 members of the National Academy of Medicine, 8 members of the National Academy of Inventors, and 5 members of the National Inventors Hall of Fame, as well as 6 National Medal of Technology winners, 5 National Medal of Science winners, and a Nobel Prize winner in Physics. With 7,000 students and nearly 100,000 living alumni, Rensselaer is addressing the global challenges facing the 21st century—to change lives, to advance society, and to change the world. To learn more, go to www.rpi.edu.
About the School of Engineering
Rensselaer Engineering has a been a vibrant and evolving source of discovery and innovation for nearly two centuries: a place where students and faculty come together and work to solve the grand challenges facing humanity from human health and mitigation of diseases, energy and the environment, and infrastructure resilience, stewardship, and sustainability, among others. We educate a new generation of engineers who not only obtain a deep knowledge in their respective fields, but are also able to work across disciplines to solve the complex problems of our times. www.eng.rpi.edu.
About GE
GE (NYSE: GE) is the world's Digital Industrial Company, transforming industry with software-defined machines and solutions that are connected, responsive and predictive. GE is organized around a global exchange of knowledge, the "GE Store," through which each business shares and accesses the same technology, markets, structure and intellect. Each invention further fuels innovation and application across our industrial sectors. With people, services, technology and scale, GE delivers better outcomes for customers by speaking the language of industry. To learn more, please visit www.ge.com.
About GE Power
GE Power is a world energy leader that provides technology, solutions and services across the entire energy value chain from the point of generation to consumption. We are transforming the electricity industry by uniting all the resources and scale of the world's first Digital Industrial company. Our customers operate in more than 150 countries, and together we power more than a third of the world to illuminate cities, build economies and connect the world. For more information, visit the company's website at www.gepower.com. Follow GE Power on Twitter @GE_Power and on LinkedIn at GE Power.
About GE's Energy Consulting Group
For nearly a century, GE's Energy Consulting experts have focused on solving the electric power industry's most pressing challenges—driving the evolution of electric power systems with greater affordability, reliability, and efficiency. Today, GE's Energy Consulting team continues this tradition by providing innovative solutions across the entire spectrum of power generation, delivery and utilization. With our cross-company resources, GE's Energy Consulting business is able to serve a diverse global client base with a strong local presence.