Posted May 21, 2020
Daniel J. Douglas, Jordan Grey, Everett C. McNair, James Rockwell and Eric Segerstrom were the 2020 recipients of the prestigious Grainger Scholars Award.
On May 21, 2020, at the annual Grainger Scholars ceremony 9held digitally this year), five ESCE students received the prestigious Grainger Scholars Award, which is given every spring. Funding for the awards is provided by the Grainger Foundation, a private organization based in Lake Forest, IL which supports U.S. technical education and workforce development. The foundation has been awarding this scholarship to RPI students in the electric power field for the last fourteen years. ECSE awardees must demonstrate superior academic performance and future promise for work or research in the field of energy sources and systems, especially electric power.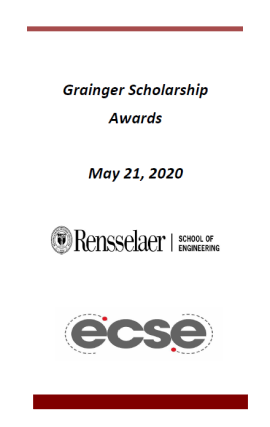 For more information on this year's winners, please see the 2020 ceremony program.
The 2020 ceremony took place digitally, find the recording below. Join us in congratulating our students who are doing amazing things in the field of Electric Power!