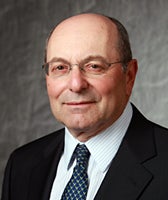 Class of 1969
Entrepreneur, Business Leader, Benefactor
Paul Severino was a co-founder and chairman of Bay Networks Inc. Bay Networks was formed in October 1994 by a merger between Synoptics Communications Inc. based in Santa Clara, California, and Wellfleet Communications Inc. based in Billerica, Massachusetts. He served as chairman of Bay Networks until November 1996. Bay Networks was acquired by Nortel Networks in 1998.
Severino was a co-founder and president of Wellfleet Communications Inc. in 1986 and Interlan Inc. in 1981. He was also involved in the startup of Data Translation Inc. in 1976 as vice president of engineering. Prior to that he worked as a product development engineer at Digital Equipment Corp. and Prime Computer Inc.
Severino is a director of Sonus Networks (NASDAQ-SONS) and Analog Devices (NYSE-ADI). He also serves on industry and government business groups. He is a former chairman of the Massachusetts Technology Development Corp. (MTDC) and was a founder and past chairman of the Massachusetts Network Communications Council in 1997.
Severino received a B.S.E.E. degree in 1969 from Rensselaer Polytechnic Institute, Troy, New York, where he serves as a trustee.  He has received honorary degrees from Worcester Polytechnic Institute and the University of Massachusetts. He also serves as a trustee of the Dana Farber Cancer Institute in Boston, Massachusetts.