Posted May 10, 2018
(TROY, New York). Six Rensselaer Polytechnic Institute School of Engineering students in the Department of Electrical, Computer & Systems Engineering (ECSE) have received prestigious Grainger Power Engineering Awards. Each spring, the ECSE Grainger selection committee chooses successful applicants who have demonstrated excellence in academic rigor and dedication to electric power or energy sources and systems. Continuing in the tradition of the Grainger Power Engineering Award, the goal is to encourage scholarly achievements made by engineering students and research fellows preparing for engineering careers by either working in the power industry or conducting research in power.
The Grainger Foundation established a funded award with the Electric Power and Engineering Department at RPI in the late 1990s – now ECSE. At that time the electric power engineering program at RPI was widely regarded as the number one program of its kind in the U.S. and well known in industry for producing stellar graduates. RPI is one of three schools considered as key beneficiaries of the Foundation.
"It is within that same spirit that we continue in the endeavor set forth by David Grainger to reward excellence from our students," said Michael Wozny, ECSE department head, during his opening remarks at the Grainger award reception in early April.
Wozny, along with National Engineering Academy member and RPI professor Joe Chow, who serves as the campus Grainger scholarship committee chair, both spoke on the resiliency and fortitude of RPI engineering graduates to think innovatively and approach their careers with confidence in their education and research abilities. Chow also talked at length about the long standing relationship between RPI and the power industry, which has resulted in many sponsored research projects, mentor-based training, and career mobility.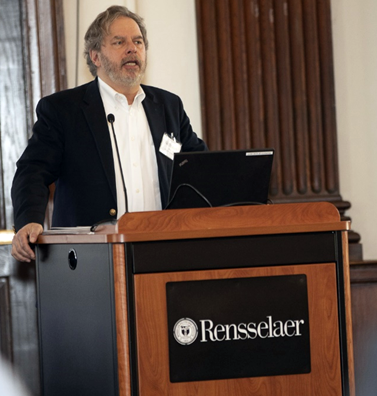 Electrical power engineering graduate and longtime GE Energy Consulting Group senior technical director Nicholas Miller ('79 and '80) formally addressed the 2018 recipients. He shared anecdotal insights into his long career with GE working on renewables in the power industry and his enthusiasm for the next generation of the power industry. Miller tells the winners, several of whom are seated with their parents and amongst their professors, PIs and mentors from the ECSE, "There has never been a more exciting time to be in power."
The 2018 recipients are seniors Amir Begovic (EE), Katheryn Flynn (EME), Everett McNair (EE), and Meaghan H. Podlaski (EE); junior Leslie Chase (ECE); and graduate student Dayna L. Herling (EE). In addition to a monetary scholarship, awardees received certificates during the recognition ceremony and were asked to the podium to give remarks on their accomplishments and plans.
Begovic, thanked his parents, both present, who came to the U.S. from Bosnia with "extreme purpose" which motivated him to be successful.
Chase echoed Miller's remarks saying she was excited not only about her future in power but the future of power.
McNair was likewise glad to hear Miller's optimism for the future of power. "I was told that the power field wasn't flashy. My peers said it was static and not going anywhere new. But it is adapting and changing, and we are in an exciting time."
Story author: Leah Scott
About Rensselaer Polytechnic Institute
Rensselaer Polytechnic Institute, founded in 1824, is America's first technological research university. For nearly 200 years, Rensselaer has been defining the scientific and technological advances of our world. Rensselaer faculty and alumni represent 85 members of the National Academy of Engineering, 17 members of the National Academy of Sciences, 25 members of the American Academy of Arts and Sciences, 8 members of the National Academy of Medicine, 8 members of the National Academy of Inventors, and 5 members of the National Inventors Hall of Fame, as well as 6 National Medal of Technology winners, 5 National Medal of Science winners, and a Nobel Prize winner in Physics. With 7,000 students and nearly 100,000 living alumni, Rensselaer is addressing the global challenges facing the 21st century—to change lives, to advance society, and to change the world. To learn more, go to www.rpi.edu.
About the School of Engineering
Rensselaer Engineering has a been a vibrant and evolving source of discovery and innovation for nearly two centuries: a place where students and faculty come together and work to solve the grand challenges facing humanity from human health and mitigation of diseases, energy and the environment, and infrastructure resilience, stewardship, and sustainability, among others. We educate a new generation of engineers who not only obtain a deep knowledge in their respective fields, but are also able to work across disciplines to solve the complex problems of our times. www.eng.rpi.edu.
The Grainger Foundation
Grainger Power Engineering Awards are provided by the Grainger Foundation in Lake Forest, Illinois. The Foundation was established in 1949 by Mr. and Mrs. William Wallace Grainger, which has provided support for RPI for 15 years, and continued today through an endowment. David W. Grainger is the current President of The Grainger Foundation.