Well wishes from Prof. RIch Radke: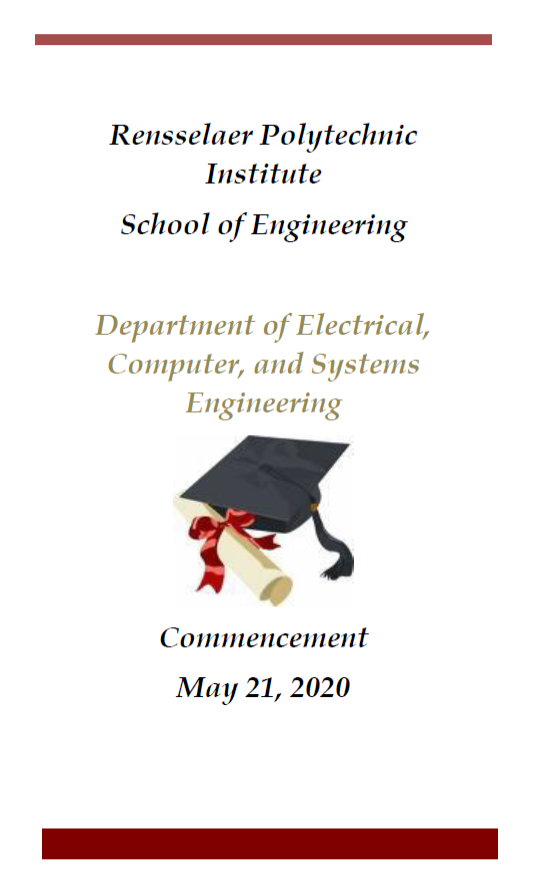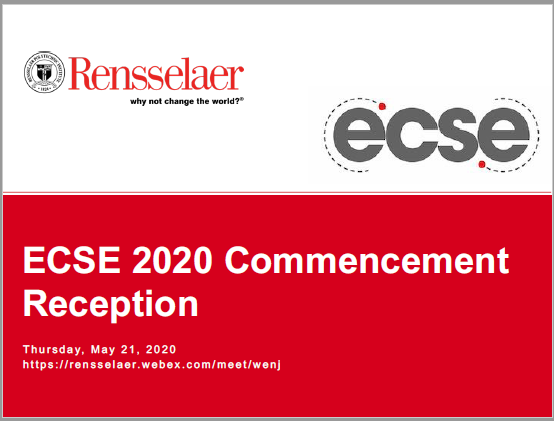 Our Graduating Students
* If you are graduating in Spring 2020 and do not see your name listed here, please contact Rama Hamarneh (hamarr@rpi.edu).
Electrical Engineering B.S. Graduates
Gjini, Elizabeth A.
Calascione, Christopher T. ​
El-Mohandes, Zackery T. ​
Yale, Matt C. ​
Crooks, Savannah L.
Dibie, Danielle P. ​
Fan, Ruiyi ​
Gutenmann, Kristian A.  ​
Melkun, Justin F. ​
​Urbanski, Joey A. ​
Zielinski, Nate J. ​
Computer and Systems Engineering B.S. Graduates
​Fall 2019​
Wang, Junhe ​
​Koepfer, Linus ​
​Schaffter, Clara A. ​
Van Alstyne, Benjamin P. ​
​ECSE Masters Graduates
Fall 2019​
​Spring 2020​
​ECSE Ph.D. Graduates
Indrani Bhattacharya.   Dissertation: "Unobtrusive Analysis of Human Behavior in Task-based Group Interactions" (Supervised by Dr. Richard J. Radke)​

Md Hossain Toufiq Imam.  Dissertation: "Integrated Modeling and Control of the Indoor Built Environment" (Supervised by Dr. Sandipan Mishra)​

Di Lu.  Dissertation: "Multi-Media Multi-Lingual Information Extraction, Summarization and Transfer" (Supervised by Dr. Heng Ji)​

Yu Pin Hsu.  Dissertation: "Analog Front-end Circuits for Health Monitoring Applications" (Supervised by Prof. Mona Hella)​

Christoph Lackner.  Dissertation: "Controls in Power Systems with Renewable Energy Penetration" (Supervised by Dr. Joe Chow)​

Zemin Liu.   Dissertation: "Power Management Circuits for Hybrid Energy Harvesting" (Supervised by Prof. Mona Hella)​
Prateek Kumar Singh.  Dissertation: "Reliable and Trustworthy Networking In Ad Hoc and Edge Networks" (Supervised by Koushik Kar)​

Wenting Li.  Dissertation: "Real-time and Agile Data-driven Approaches Enabling Power Grids to be Smart" (Supervised by Prof. Meng Wang)​

Yuan Liu.  Dissertation: "An Improved Video Compression Framework with Fine-grain Scalability" (Supervised by Prof. John Woods)​

Ignacio Vieto Miranda. Dissertation: "Small-signal Modeling and Analysis of Type-III Wind Turbines Considering Coupling Through Dc Bus and Over Frequency" (Supervised by Prof. Jian Sun)​
Sagnik Nath.  Dissertation: "Development of a Methodology for Automatic Placement and Routing of SFQ Circuit Designs and an Associated Standard Cell Library (Supervised by Tong Zhang and John McDonald)​

Meng Zhang.  Dissertation: "Design of Real-world Person RE-Identification Systems" (Supervised by Richard J. Radke)​

Alexander Derrickson.  Dissertation: "A Contemporary Assessment of the Lateral Silicon-Germanium Bipolar Transistor" (Supervised by Prof. Rena Huang)